VCAA Literature List 2020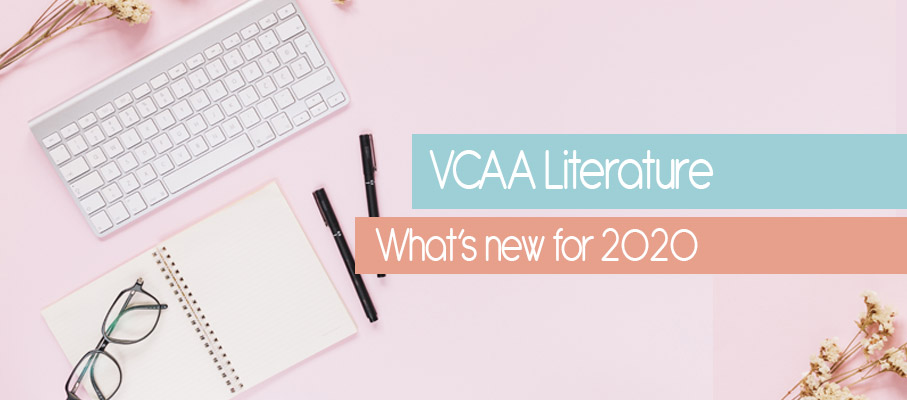 Upcoming titles for the VCAA Literature List 2020
15th August, 2019 | 3 minute read
At the start of the year, the VCAA announced the Literature texts for Units 3&4 for the 2020 school year. New titles have been added and some titles have been removed. If your school is currently using a text that has been removed from the list, you may be looking for an alternative for students to study next year.
It is important to take into consideration the themes you are looking to explore in these units and what will be suitable for your school more broadly and specifically your students. For example, new addition Picnic at Hanging Rock by Joan Lindsay demonstrates themes of order and chaos as a group of schoolgirls go missing in the Australian Bush. Alice Munro appears again (with another title on the VCAA English & EAL List) with her collection of short stories Dance of the Happy Shades. This text explores themes of the human experience such as love, family, social standing and ageing. Iconic Author Tim Winton's The Boy Behind the Curtain is made up of extraordinarily powerful true stories that have influenced his view of life.
To find out what texts have made the VCAA Literature List for 2020, please keep reading.
VCAA LITERATURE LIST 2020
NOVELS
Austen, Jane, Northanger Abbey
Cadwallader, Robyn, The Anchoress
Calvino, Italo, 'The Baron in the Trees', in Our Ancestors, Archibald Colquhoun
Gaskell, Elizabeth, North and South
Lindsay, Joan, Picnic at Hanging Rock (New in 2020)
Vásquez, Juan Gabriel, The Sound of Things Falling, Anne McLean
Winterson, Jeanette, The Passion
Wright, Alexis, Carpentaria
Zola, Emile, The Ladies' Paradise, Brian Nelson (New in 2020)
PLAYS
Bovell, Andrew, Speaking in Tongues
Delaney, Shelagh, A Taste of Honey
Euripides, Hippolytus (2)
Morrison, Toni, and Traoré, Rokia, Desdemona
Reza, Yasmina, Art
Shakespeare, William, Othello
Shakespeare, William, Twelfth Night
Shepard, Sam, Buried Child
Williams, Tennessee, Cat on a Hot Tin Roof
SHORT STORIES
Beneba Clarke, Maxine, Foreign Soil
Dovey, Ceridwen, Only the Animals
Munro, Alice, Dance of the Happy Shades (New in 2020)
OTHER LITERATURE
Voltaire, Candide, or Optimism, Theo Cuffe (ed. and trans.)
Winton, Tim, The Boy Behind the Curtain (New in 2020)
Woolf, Virginia, A Room of One's Own
POETRY
Language for a New Century: Contemporary Poetry from the Middle East, Asia, and Beyond
Dickinson, Emily, The Complete Poems (New in 2020)
Plath, Sylvia, Ariel
Slessor, Kenneth, Selected Poems (New in 2020)
Wagan Watson, Samuel, Smoke Encrypted Whispers
White, Petra, A Hunger (revised edition)
Titles Removed from the VCAA Literature List for 2020
The following titles have been removed from the VCAA English list for Units 3 & 4, 2020:
Stead, Christina, The Man Who Loved Children
The Diary of a Madman, The Government Inspector and Selected Stories
My Father's Daughter: Memories of an Australian Childhood
Browning, Robert, Selected Poems
Conrad, Joseph, Heart of Darkness
Wallace-Crabbe, Chris, New and Selected Poems
Get in touch!
If your school would like more information on these titles or would like any of the above mentioned titles invoiced or on approval please send an email to info@lilydalebooks.com.au.
To view what is on the VCAA English and EAL text list for 2020, click here.
The information in this article is cited from the Victorian Curriculum Assessment Authority.
< Previous Article
Back to News
Next Article >
Keywords
VCAA English List
VCAA English List 2020
VCAA Text List 2020
VCAA Literature Study Design
Literature
VCAA
VCAA Literature List
VCAA Literature Text List 2020
Victoria Curriculum Assessment Authority
VCAA Novels 2020
VCAA Short Stories
VCAA Plays
VCAA Poetry
VCAA Songs
VCAA Films
VCAA Text List
Study Design
English Study Design