VCAA English and EAL List 2020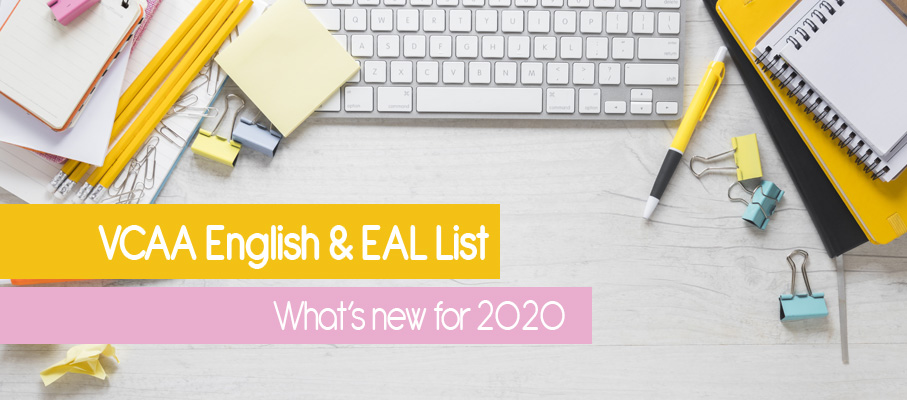 Upcoming titles for the VCAA English & EAL List 2020
15th August, 2019 | 5 minute read
At the start of the year, the VCAA announced the English texts for Units 3&4 for the 2020 school year. New titles have been added and some titles have been removed. If your school is currently using a text that has been removed from the list, you may be looking for an alternative for students to study next year.
It is important to take into consideration the themes you are looking to explore in these units and what will be suitable for your school more broadly and specifically your students. For example, cultural difference and traditions are covered in Things Fall Apart by Chinua Achebe. Set in London 1984, the rights of the LGBTQI community and activism are explored in the film Pride. Other themes such as acceptance and revenge are examined in Rosalie Ham's classic, The Dressmaker and the monarchy's response to the tragedy with the death of Princess Diana in The Queen.
With Black Diggers being removed from VCAA list, the themes of Australia's Indigenous survival are portrayed in the play The 7 Stages of Grieving. Icon, Deborah Mailman premiered the play in 2002 to rave reviews. The play covers themes of woman's right and reconciliation and of course, grief.
Other notable additions to the list are: Alice Munro's Runaway, classics Pride & Prejudice, Much Ado about Nothing and William Wordsworth Selected Poems.
Once you have established your themes, it is time to choose your texts. Remember to ensure you follow the selection guidelines as outlined by the VCAA. If you want to explore your options, replace a removed title or simply curious to see what titles are going to be studied throughout Victoria in Year 12, please keep reading.
VCAA ENGLISH & EAL LIST 2020
LIST 1
NOVELS
Achebe, Chinua, Things Fall Apart (New in 2020)
Austen, Jane, Pride and Prejudice (New in 2020)
Doerr, Anthony, All the Light We Cannot See
Grenville, Kate, The Lieutenant
Jordan, Toni, Nine Days
London, Joan, The Golden Age
Piper, Christine, After Darkness
St John Mandel, Emily, Station Eleven
SHORT STORIES
Kennedy, Cate, Like a House on Fire
Munro, Alice, Runaway (New in 2020)
PLAYS
Euripides, The Women of Troy
Rayson, Hannie, Extinction
Shakespeare, William, Much Ado About Nothing (New in 2020)
POETRY/SONGS
Skrzynecki, Peter, Old/New World: New & Selected Poems
Wordsworth, William, William Wordsworth: Poems selected by Seamus Heaney (New in 2020)
FILMS
Hitchcock, Alfred (director), Rear Window
Polley, Sarah (director), Stories We Tell
OTHER
Satrapi, Marjane, Persepolis: The Story of a Childhood, Jonathan Cape
NON-FICTION
Boo, Katherine, Behind the Beautiful Forevers: Life, Death, and Hope in a Mumbai Undercity
Capote, Truman, In Cold Blood
LIST 2
PAIR 1
Davidson, Robyn, Tracks
de Heer, Rolf, Charlie's Country
PAIR 2
Frears, Stephen, The Queen (New in 2020)
Malouf, David, Ransom
PAIR 3
Funder, Anna, Stasiland
Ishiguro, Kazuo, Never Let Me Go
PAIR 4
Szubanski, Magda, Reckoning
Lahiri, Jhumpa, The Namesake
PAIR 5
Miller, Arthur, The Crucible
Ham, Rosalie, The Dressmaker (New in 2020)
PAIR 6
Ziegler, Anna, Photograph 51
Atwood, Margaret, The Penelopiad: The Myth of Penelope and Odysseus
PAIR 7
Mailman, Debra and Enoch, Wesley, The 7 Stages of Grieving (New in 2020)
D'Aguiar, Fred, The Longest Memory
PAIR 8
Yousafzai, Malala, with Lamb, Christina, I Am Malala: The Girl Who Stood Up for Education and Was Shot by the Taliban
Warchus, Matthew (director), Pride (New in 2020)
RESOURCES
Once you have selected your texts from lists 1 and 2, you may want to explore what study resources are available to assist students' learning and comprehension of their set texts.
The Insight Comparison texts are excellent resources that will help students write comprehensive essays comparing the texts being studied in class. Insight have created a range of comparisons that suit the texts being compared from list 2.
Have a look at the new titles coming from Insight soon!
Insight Comparisons: The Queen & Ransom
Insight Comparisons: The Crucible & The Dressmaker
Insight Comparisons: The Seven Stages of Grieving & The Longest Memory
Insight Comparisons: I am Malala & Pride
Insight also have Text Guides available for the following VCAA English List titles:
Insight Text Guide: Much Ado About Nothing
Insight Text Guide: Runaway
Insight Text Guide: Things Fall Apart
Insight Text Guide: I Am Malala
Insight Text Guide: The Boy Behind the Curtain (Literature)
Just released from ATAR Notes is their range of new Text Guides that condense all the important information needed to study and analyse your novel so you can approach your assessment tasks with confidence.
Available Text Guides for the following VCAA English titles:
ATAR Notes Text Guide: After Darkness by Christine Piper
ATAR Notes Text Guide: All the Light We Cannot See by Anythony Doerr
ATAR Notes Text Guide: Old/New World by Peter Skrzynecki
ATAR Notes Text Guide: The Golden Age by Joan London
ATAR Notes Text Guide: Woman of Troy by Euripides
There are many more text guides available from Neap, Pearson and Top Notes.
Titles Removed from the VCAA English List for 2020
The following titles have been removed from the VCAA English list for Units 3 & 4, 2020.
Donne, John, Selected Poems
Island: Collected Stories
Le Guin, Ursula, The Left Hand of Darkness
Shakespeare, William, Measure for Measure
Shelley, Mary, Frankenstein
Eastwood, Clint (director), Invictus
Year of Wonders: A Novel of the Plague
Wright, Tom, Black Diggers
Cole, Nigel (director), Made in Dagenham
Get in touch!
If your school would like more information on these titles or would like any of the above mentioned titles invoiced or on approval please send an email to info@lilydalebooks.com.au.
To view what is on the VCAA Literature text list for 2020, click here.
The information in this article is cited from the Victorian Curriculum Assessment Authority.
< Previous Article
Back to News
Next Article >
Keywords
VCAA English list 2020
VCAA EAL list 2020
VCAA Literature 2020
VCAA list
VCE English
VCE Literature
Victoria Curriculum Assessment Authority
Short Stories
Plays
Poetry
Songs
Film
Fiction
Non-Fiction
Text List
Texts
Study Design
English Study Design