Philosophy Exam Supplement VCE

VCE Philosophy: Assessment and Examination Supplement for VCE Units 3&4 3E is Available Now!
28th June, 2019 | 3 minute read
Great news! The VCE Philosophy: Assessment and Examination Supplement for VCE Units 3&4 is available now from Lilydale Books. This is the third and most up to date supplement for Philosophy Units 3&4.
Renowned publisher David Barlow has released this Assessment and Examination Supplement to complement his highly successful VCE Philosophy: A Student Text for VCE.
What can you expect?
The content in this Assessment and Examination Supplement has been updated to reflect the changes in the latest Study Design for 2019-2023.
Packed with invaluable information to assist students and teachers prepare for assessments and exams, this supplement is currently the only resource available on the market for revising the material in VCE Philosophy Units 3 & 4.
Although this resource is aimed at VCE Philosophy Units 3&4, there is relevant information offered to assist those studying Units 1&2 as well. There are ample practice questions and examples that encapsulate the main topics covered in these units, including Minds, Bodies and Persons and The Good Life.
This book includes:
• How to handle different task types in VCE Philosophy: short answers, extended responses, essay responses, written analyses, dialogues, presentations and reflections
• How to approach tasks involving stimulus material
• How to develop key knowledge and key skills in VCE Philosophy
• How to prepare for assessment tasks and the year 12 VCE Philosophy exam
• Sample assessment tasks for Units 3 and 4
• Annotated student responses
• Guidance on the new exam format
• Over 100 new practice questions, tasks and activities
• Essential exam strategies – including how to manage time and satisfy mark allocations
• General advice for success in VCE Philosophy
Buy it Now!
To purchase any items from the VCE Philosophy range, click here. Alternatively, if you are a teacher, please send us an email at info@lilydalebooks.com.au with your order, quantity and a Purchase Order number and we can have them sent and invoiced to the school. If you are a partnering school with Lilydale Books you will receive free shipping and a discount.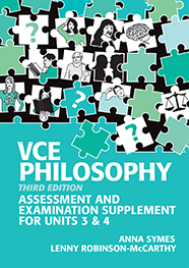 OUT NOW
Assessment and Examination Supplement $27.50
ALSO AVAILABLE
Student Book Units 1&2: $75.00
Student Book Units 3&4: $65.00
< Previous Article
Back to News
Next Article >
Keywords
VCAA Philosophy
VCE Philosophy
Buy Philosophy
Philosophy Books Online
Philosophy Units 3&4
Philosophy Resource
Philosophy Study
Philosophy Exam Study
David Barlow
Philosophy Assessment
Buy Philosophy Online
Philosophy Assessment and Examination Supplement