HTAV Study and Exam Guides

Study for your VCE History subjects with confidence!
28th June, 2019 | 3 minute read
The HTAV Study & Exam Guides are designed for students undertaking VCE History to assist with the revision of the key knowledge in their chosen History subject. The titles in the HTAV Study & Exam Guide Series focus on the American Revolution, Chinese Revolution, French Revolution, Russian Revolution and Australian History.
The Study & Exam Guides for Revolutions are written by experienced VCE teachers and provide comprehensive study material to revise the following study areas:
Area of study 1: Causes of Revolution
Area of Study 2: Consequences of Revolution
Other features that you will find useful in these guides include
• Revision checklists
• Detailed revision notes
• Overview of SACs
• Overview of the exam
• Examples of strong exam responses
• General guidance for assessment
• Full sample exam and guide to responses
• Online key knowledge quizzes
Are you familiar with key individuals in the French Revolution such as Marie Antoinette and King Louis XVI? Can you recall the timeline of events that contributed to the cause of the Russian Revolution? Can you summarise the contribution of each key movement to the American Revolution?
Approach your SACs and exams feeling more confident in your ability to recall important information with the help of HTAV's Study and Exam Guides. You can tick off your checklist as you revise each key area of study in these books.
Are you studying Australian History?
HTAV have also created a Study & Exam Guide for Senior History Series for Australian History as well. Similarly, to the guides for Revolutions, in this Study & Exam Guide you will find detailed revision notes, examples of strong exam responses and revision checklists and more!
Covering the key areas of study for:
Unit 3 – Transformations: Colonial Society to Nation
Unit 4 – Transformations: Old Certainties and New Visions
Did you know?
These Study and Exam Guides are perfect to accompany the material in the corresponding textbook which is part of the HTAV Senior History Series. These include Forging America, China Rising, Liberating France, Reinventing Russia.
Purchase yours today!
The HTAV Study and Exam Guides can be purchased from Lilydale Books. Browse the range by HTAV on our catalogue where you will find textbooks, eBooks and of course the most useful study guide on the market for VCE History (Revolutions).
Purchase your HTAV Study and Exam Guide here!
Browse the rest of the HTAV Senior History Series here!
Alternatively, if you are a teacher, please send us an email at info@lilydalebooks.com.au with your order, quantity and a Purchase Order number and we can have them sent and invoiced to the school. If you are a partnering school with Lilydale Books you will receive free shipping and a discount.
HTAV Study & Exam Guides (Revolutions): $27.00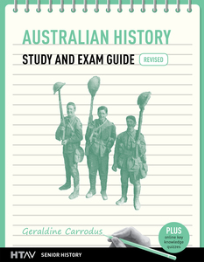 HTAV Study & Exam Guides (Australian History): $37.00
Also Available
Student Books: $58.00 | Bundle (Print + eBook): $70.00 | eBook: $38.00
• Forging America
• China Rising
• Liberating France
• Reinventing Russia
Corresponding Student Workbooks: $23.00
< Previous Article
Back to News
Next Article >
Key Words
Revolutions Study Design
Russian Revolution
French Revolution
American Revolution
Chinese Revolution
Australian History
VCE History Revolutions
Revolutions Past Exams
Chinese Revolution Books
VCE History
Revolutions Study
American Revolution Books
Russian Revolution Books
VCE Revolutions
French Revolution Books
Study Guide